After months of saving pennies here and there, i finally got my hands on a digital camera. I had my eyes on a Fujifilm Finepix s5100 for a long time. When i finally had saved enough to get one, i realized that it would not cost me that much more to get a s5200 so i waited a little longer and finally got my hands on a S5200, with a free fake tripod :).
Minutes after opening the package and filling up the 16MB card three or four times, i came to one sad realization. I don't know Jack about photography. So, i did what any self-respecting amateur photographer would do, attempt something you absolutely have no way of accomplishing for the simple sack of making yourself feel like you are not that bad.
What did i pick as my pick-me-up project? Water-drops..
How hard could it be, right?
Turn on faucet
slow it to a drip
Place container of choice in sink
Aim camera
Catch drop as it hit the water in said container
Pure child's play i tell'ya.
About half an hour later, this is the best i came up with: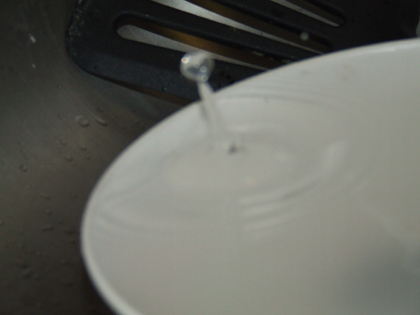 Not too bad.
I'm going outside to shoot some snow……